Assistant Minister praises DSTO for strategy, collaboration and innovation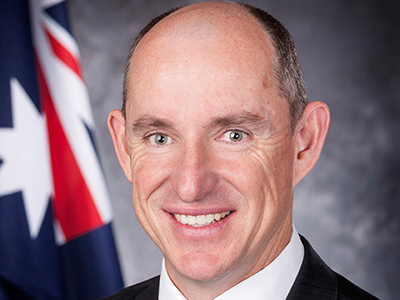 Assistant Minister for Defence, Mr Stuart Robert MP, has drawn attention to the pivotal role of DSTO in exploiting science and technology (S&T) to safeguard Australia.
Speaking to an audience of Defence, industry and government representatives at the Australian Defence Magazine Congress 2014 in Canberra, Mr Robert commended DSTO's strategic approach to ensuring that Defence maintains its technological edge.
"A critical first brick in DSTO's foundation is establishing a Defence S&T strategy that will guide and coordinate the collective effort of the organisation," Mr Robert said.
"To this end I wish to compliment Defence and in particular the current Chief Defence Scientist, Dr Alex Zelinsky, for establishing a clear vision and strategy for DSTO as outlined in the DSTO Strategic Plan 2013-18 published last year."
"I would also like to compliment DSTO's initiative and Dr Zelinsky's personal efforts in revitalising DSTO's linkages to our academic and industrial sectors."
Mr Robert reinforced DSTO's vision to be a valued adviser, collaborative partner and innovative integrator, and showed support for efforts to establish a program of strategic S&T alliances with leading Australian companies and research agencies.
"This program aids the development of in-country industry capabilities, tailored to meeting Defence's requirements while providing industry with exposure to DSTO's research base and the exchange of information in clearly defined areas."
Mr Robert also commended DSTO's world-leading contribution to fields such as hypersonics, over-the-horizon radar and aircraft structural integrity.
"This demonstrated level of S&T expertise will be drawn upon in meeting the challenges and opportunities arising from such emerging technologies like robotics, advanced military communications, cyber security and computing," he said.
"It is in these areas that our future Australian Defence Force ADF warfighter stands to benefit most from DSTO's research and partnership efforts."
See Mr Robert's full speech for more.