DSTO builds deeper linkages with industry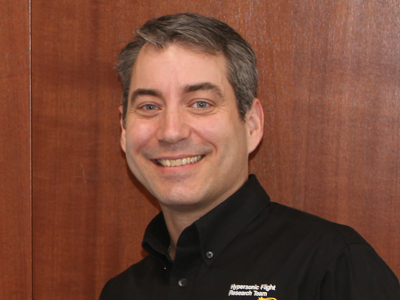 Hypersonics scientist Dr Mark Bateup is the first DSTO researcher to be placed under the Industry Placement initiative, with Australian systems engineering company Aerospace Concepts.
The initiative is aimed at helping DSTO scientists to gain practical industry experience and improve Australian industry's research and development capability. Scientists would be employed in private sector companies for up to two years to broaden their expertise, then return to DSTO to add value to Defence capability.
DSTO benefits from the hands-on experience that scientists such as Dr Bateup gain with an industry placement, and the company draws on the considerable knowledge of DSTO scientists.
Chief Defence Scientist Dr Alex Zelinsky said the initiative was valuable not only for developing the careers of DSTO staff but also for improving research collaborations and engagement with industry partners.
"We're planning similar placements of our staff in universities and other research organisations," he added.
Dr Bateup has been working on DSTO's Hypersonic International Flight Research Experiment Program (HIFiRE) which is researching high-speed flight at more than five times the speed of sound.
As a leading systems engineering services company in Australia, Aerospace Concepts has been closely involved with the HIFiRE Program.
Aerospace Concepts' Chief Executive Officer Shaun Wilson said Dr Bateup would bring extensive engineering research experience to the company.
"Dr Bateup will make a strong contribution to our engineering practice with military and civil clients in Australia and overseas before returning to DSTO in early 2016," Mr Wilson said.
Dr Bateup said his qualifications were a good 'fit' with the company's activities.
"This placement is particularly attractive to me because of the synergy between Aerospace Concepts and the HIFiRE Program for which I have developed templates defining where hypersonic rockets can be flown safely.
"This is an area in which Aerospace Concepts is particularly strong, so I will take back to DSTO that extra knowledge, experience and specialist skills as well as a much better appreciation of how industry works."