International recognition for DSTO scientist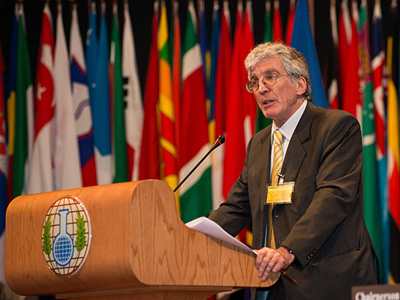 Defence Science and Technology Organisation's (DSTO's) Dr Bob Mathews has been awarded the prestigious international OPCW-The Hague award from the Organisation for the Prohibition of Chemical Weapons (OPCW), the first such award to be given to 'individuals and organisations that have made an outstanding contribution to achieving a world free of chemical weapons.'
OPCW Director-General Ahmet Uzumcu presented the award to Dr Mathews at a function in The Hague before a packed audience of scientists, diplomats and world leaders.
The OPCW, winner of the 2013 Nobel Peace Prize, has established the award from last year's prize money to recognise outstanding contributions that advance the goals of the Chemical Weapons Convention (CWC).
Dr Mathews, who joined DST in 1968, has devoted his career to chemical disarmament and non-proliferation, first as a chemical analyst and later as a policy advisor. His work was crucial in drafting, implementing and promoting the CWC and the development of the Preparatory Commission that resulted in the establishment of the OPCW.
Dr Mathews was Scientific Advisor to the Australian delegation to the Conference on Disarmament which paved the way for the formation of the OPCW where he also served on their Scientific Advisory Board from 2004 to 2011.
Chief Defence Scientist Dr Alex Zelinsky said, 'The award…brings well-deserved international recognition to Dr Bob Mathews and Australia."
Dr Mathews said the award was the highlight of his career and he was deeply grateful to the OPCW for its recognition of his contribution over the past 30 years. He paid tribute to his international colleagues. "I think of this award as also very much belonging to all those dedicated individuals."
In 1994 Dr Mathews was awarded an Order of Australia medal for his work on the CWC.
Download media
To download the above videos, right click and save the links below: