Chemical and biological defence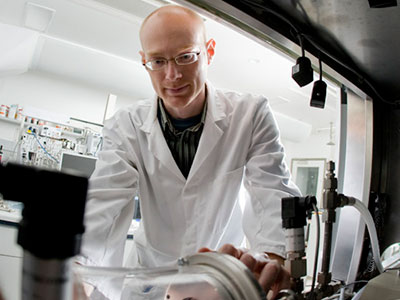 The Chemical and Biological Defence branch of Land Division is responsible for developing, sustaining and applying Chemical and Biological (CB) sciences, as they are applied to the defence against CB threats.
This encompasses:
understanding the technical risk presented by CB materials
detection and characterisation of CB hazards
controlling contamination arising from CB materials
providing physical protection measures against chemical and biological hazards
providing medical countermeasures to CB material
providing scientific and technical support to Australia's CB Weapons Arms Control and Counter-proliferation activities.
Synthesis and analysis
Synthesis and Analysis group leads the application of research and development (R&D) to inform the technical threat from chemical materials; science and technology (S&T) skills and knowledge in the synthesis and handling of highly toxic chemicals and related materials; and in the use of chromatography, mass spectrometry, magnetic resonance and other physical methods for analysis and characterisation of chemical and biological materials.
Biosurveillance and biodetection
Biosurveillance and Biodetection group leads the application of R&D in microbiology and rapid diagnostics to develop biosurveillance and health monitoring capabilities; The development and assessment of technologies for detection and identification of biological threats. S&T expertise required includes: microbiology, immunology, biochemistry, analytical chemistry, mathematical data analysis and statistics.
Medical countermeasures
The Medical Countermeasures group leads the application of R&D to advise clients on emerging biological threats, develop cell-based assays and platform technologies and identify drug target candidates and disease markers to assist with the transition of candidate medical countermeasures to approved medical products. S&T expertise required includes molecular biology, cell biology, toxicology, bioinformatics, functional genomics, pharmacogenomics and systems biology.
Hazard management and individual protective equipment
the Hazard Management and Individual Protective Equipment group leads the application of R&D for the development of new materials for protection of individuals, decontamination or detection systems for specific chemicals of concern. Test and evaluation of Commercial Off The Shelf (COTS) products provides smart buyer advice to Defence and National Security clients. S&T expertise required includes surface chemistry, physical chemistry and design and engineering.