DSTO collaboration delivers enhancement to smart bomb technology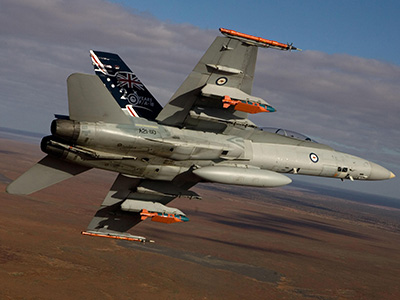 A significant milestone has been achieved with the delivery of the first production set of Australian designed and manufactured Joint Direct Attack Munition-Extended Range (JDAM-ER) wing kits.
Developed by DSTO scientists, the wing kit technology consists of a set of deployable wings which converts a standard JDAM into a long range glide bomb, capable of striking a target with pinpoint accuracy at up to three times the range of the original weapon.
DSTO conceived the idea many years ago for a low-cost, standoff weapon consisting of a strap-on wing kit, Inertial Navigation System (INS) and movable tail unit to increase the range and accuracy of a basic MK-82 weapon. Preliminary designs and subsequent developmental test and evaluation flight trials in the 1980s and 1990s were used to refine the initial concept.
By the late 1990s Boeing had developed the JDAM – a tail kit containing a GPS navigation unit and movable control surfaces – and in 2001 Boeing approached DSTO with a proposal to combine the JDAM with the DSTO wing kit to create the JDAM-ER.
A successful Concept Technology Demonstrator (CTD) Project concluded with flight trials in 2006 and 2008, demonstrating a significant range extension for the JDAM using the DSTO wing kit technology.
The Defence Materiel Organisation (DMO) joined the partnership with DSTO and Boeing in 2009 to adapt the technology for production, conduct final certification of the JDAM-ER and acquire the wing kits for the Royal Australian Air Force (RAAF).
The development of the JDAM-ER is a direct result of the collaboration between DSTO, Boeing and DMO and represents the successful marriage of technologies to deliver a cost-effective innovation and enhancement to Defence capability.