Senior appointments at DST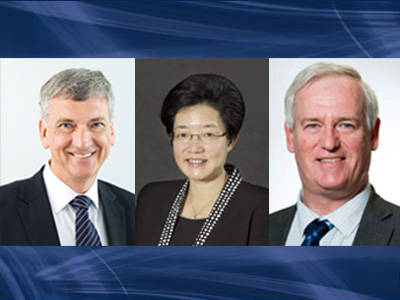 DST welcomes Dr Ian Dagley, Dr Dong Yang Wu and Mr Andrew Seedhouse to the DST leadership team.
Dr Dagley will head up DST's Science Partnerships and Engagement Division, after 20 years as the CEO of the Cooperative Research Centre for Polymers. He takes up his position on 4 July.
Dr Dong Yang Wu has been appointed as Chief of DST's Aerospace Division and joins DST from Boeing where she was Boeing Technical Fellow (since 2010) and Vice President Boeing Research and Technology - China. Dr Wu will commence at DST on 10 July.
Mr Seedhouse comes from a long and distinguished career at the Defence Science and Technology Laboratory (Dstl) in the United Kingdom. Mr Seedhouse takes on the role of Chief National Security and Intelligence, Surveillance and Reconnaissance Division and is expected to commence on 17 July.
Chief Defence Scientist, Alex Zelinsky welcomed the three to the leadership team and said that he looked forward to working with them to enhance Australia's Defence and national security capabilities.
View the Organisational Chart to see DST's full leadership team.