Chief Defence Scientist outlines bold vision for Defence Science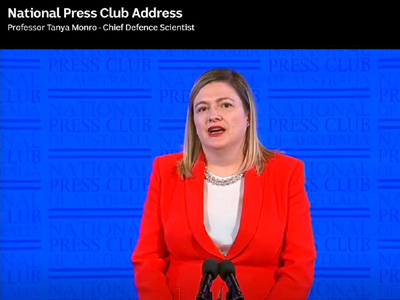 In the 10th annual Ralph Slatyer Address at the National Press Club, Chief Defence Scientist, Professor Tanya Monro has outlined her vision for Defence science over the next decade – and it's all about focus, scale and impact.
'Today's technological developments and the world's hyper-connectivity are transforming the characteristics of warfare,' she said.
'The emergence of new capabilities—like hypersonic weapons, high-speed and long-range missiles, and artificial intelligence—is increasingly challenging traditional military capabilities.'
'To prevail in a contested environment,' she asserts, 'Australia needs a modern military force equipped for modern warfare.'
She sees science and technology as critical to ensuring our ADF maintains a strategic advantage across the full spectrum of Defence capabilities.
'I would contend that the role of Defence science and technology, in the defence of our nation is today, more important than ever,' she said.
Professor Monro has overseen the development of a bold new strategy for Defence science and technology that will harness expertise from across the nation to deliver game-changing impact to the Australian Defence Force.
The 'More, together. Defence science and technology strategy 2030', launched recently by the Minister for Defence, Senator the Hon Linda Reynolds CSC, focuses on aligning the efforts of Australia's science and technology enterprise to address some of the nation's biggest problems.
At the heart of the strategy is a set of eight science, technology and research missions, known as STaR Shots. Professor Monro has described them as 'challenging, inspirational and aspirational scientific endeavours that the whole nation can get behind.'
'They have been devised to unlock the creativity of the nation and to shape our research and development system to set the foundation for leap-ahead sovereign capabilities,' she said.
Professor Monro asserts that by concentrating the nation's strategic research efforts on a smaller number of bigger, specific and challenging problems, scale and intensity can increase to deliver real, game-changing impact.
Information on the eight STaR Shots can be found on the DST website.