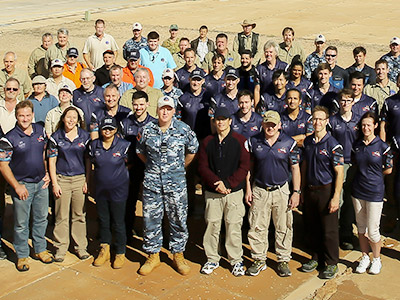 Science, Technology and Research (STaR) Shots are challenging, inspirational and aspirational S&T missions that will align strategic research to force structure priorities.
They will drive the evolution of innovation pathways, from fundamental research and development through to prototyping and transition into capability, to focus the national S&T enterprise on Defence's biggest problems. STaR Shots will aim to deliver new capabilities into the hands of the warfighter and collectively support the overarching objective of equipping Defence to prevail in contested environments.
Launched with the More, together: Defence Science and Technology Strategy 2030 (the Strategy), the initial set of STaR Shots will bring together expertise from across the national S&T enterprise, building scale through partnerships and guiding their scientific endeavours. However, success will not be achieved simply by answering difficult research questions but by translating those answers into solutions that enable Defence to ensure the security of Australia and protect our national interests to 2030 and beyond.
STaR Shots will not be the only S&T effort within Defence. The Defence Innovation and S&T portfolio will also include other research programs that support Defence operations and provide ongoing advice for the acquisition, sustainment and future-proofing of Defence capability.
Setting Directions (FOCUS)
Guided by force structure priorities, the STaR Shots set the direction for strategic research and development that will generate the capabilities best achieved through Australian investment. Each STaR Shot defines a significant military challenge in terms of the desired Defence capability and potential impact on ADF operations, without presupposing solutions or specifying the research approach. In this way, STaR Shots guide and focus the national S&T enterprise while encouraging new ideas and innovative approaches that will deliver leap-ahead capabilities for Defence.
Building Partnerships (SCALE)
Early engagement across the national S&T enterprise is critical to building the scale of expertise and innovation needed to solve the complex problems facing Defence. This will enable partnerships and research activities to be designed and initiated together.
Defence will use mechanisms ranging from organisational-level workshops to share information on potential areas for collaboration through to targeted meetings and working groups to tackle specific challenges. The aim is to have multiple organisations working together to design programs and project activities, and for new partners to join the team as the research progresses, demonstrations are held, and different expertise is required.
Defence will guide arrangements with partners based on measures such as technical capability, security, infrastructure, co-investment, and the ability to collaborate and translate outcomes into impact. This emphasis on early engagement and collaboration will complement existing arrangements for defence industry partners. By combining these activities, Defence will foster a defence industry that is actively undertaking research and development in collaboration with university and government counterparts and creating new technologies.
Demonstrating Success (IMPACT)
Delivering impact through strategic research is central to the STaR Shots. In this context, impact is created when the outcomes of the collaborative research activities result in advances in Defence capabilities, with flow-on benefits for the national S&T enterprise. STaR Shot teams will show progress towards delivering the identified leap-ahead capabilities through demonstrations of the solutions being developed and testing of their military utility.
These demonstrations will facilitate the innovation pathways that are required to deliver impact. Such pathways transition new ideas into prototypes and refine them into viable technologies integrated within operational systems; they enable the transition of innovative knowledge, technologies and systems into Defence capability. Given that delivering impact is integral to each STaR Shot, the teams and their activities will both create and shape the ways in which research outcomes generate value and strategic advantages for Defence.