LHD Landing Craft enhancement program wins Essington Lewis award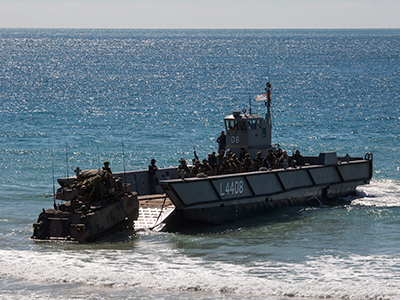 The team behind substantial capability improvements to Australia's Landing Helicopter Dock (LHD) Landing Craft has taken out the Essington Lewis 'Minor Sustainment Activity' award.
Comprising representatives from Defence, Navantia, UGL and KBR, the team significantly increased the capacity and capability of the landing craft.
As the judges noted: "The project successfully turned around the fortunes of a platform that had suffered a significant loss of reputation and was facing early replacement."
A key contribution to the program was the seakeeping analysis performed by Defence scientists.
Seakeeping analysis is the examination of how ships behave in waves. By better understanding how ships perform in various wave conditions, fleet managers can more easily define safe operational envelopes for their fleets based on the severity of conditions.
Technical performance data for the LHD landing craft was limited, significantly restricting the conditions the Navy could operate the vessels.
In partnership with long-time collaborators the Netherlands' Maritime Research Institute (MARIN), Defence naval architects set to work generating hard data on the landing craft's performance under a wide variety of sea conditions with different cargo weights.
The data indicated that the safe cargo-carrying capacity of the landing craft could be increased from 20 tonnes in sea state 4 to 60 tonnes, enabling the landing craft to load and transport all current and future military land vehicles, something that was not possible previously.
Naval platform seakeeping expert Daniel Sgarioto explained that Navy now has a landing craft that is fit for purpose.
"In 12 months, we went from potentially having to acquire a new vessel to cover the capability gap to having a vessel that can now meet all of the current and foreseeable amphibious requirements."
"This is a huge saving for Defence."
In addition to the increased cargo-carrying capacity, the project team added dunnage to the deck so the vessel could safely carry the Army's new trucks, and they added a preheater to the main engines which reduced the amount of smoke generated by the main engines on start-up.
Deputy Secretary of Defence's Capability Acquisition and Sustainment Group, Tony Fraser AO CSC, said that the contributions of the team had 'created a renewed enthusiasm for the LHD landing craft, future-proofing the capability, reducing overall program costs and ensuring Australia's amphibious assault capability well into the foreseeable future.'
The Essington Lewis Awards recognise excellence in collaboration between industry and the Department of Defence.
The perpetual trophy is named in honour of Essington Lewis, the industrialist and director of munitions during the Second World War.