Delivering next generation technologies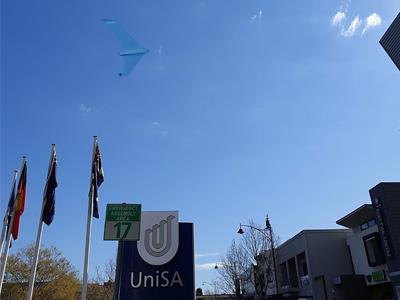 The Next Generation Technologies Fund was established with two important objectives in mind: to cultivate a national research base closely aligned with Defence priorities, and to develop critical technologies for Australia's defence and national security.
Focusing on emerging and future technologies, it is the primary vehicle by which critical technology areas are identified and pursued by Defence and provides an important mechanism for harnessing the national innovation sector to deliver critical Defence capability.
So four years in, what has it achieved?
Harnessing the national innovation enterprise
Since its launch in 2017, the fund has facilitated more than 275 research projects and invested over $164 million in high priority areas for Defence.
According to Department of Defence data, this investment has stimulated promising new research activity, supported jobs and, importantly, generated knowledge and know-how that will deliver critical capability to Defence and security agencies.
Chief of Defence's Science Engagement and Impact Division, Dr David Kershaw explained that the fund was one of a number of measures introduced in 2016 and 2017 that fundamentally changed the way in which Defence engaged with industry and academia.
"The Defence Innovation Hub, the Centre for Defence Industry Capability and the Next Generation Technologies Fund have connected us more closely with the broader S&T enterprise, and importantly, enabled us to discover pockets of expertise that we otherwise would not have known existed," he said.
"We're now working with small businesses and start-ups that previously may have struggled to connect with Defence."
Even long-standing relationships, such as those between universities and Defence have been transformed. The Next Generation Technologies Fund has supported the establishment of multi-disciplinary research networks in a number of the priority areas, harnessing expertise from across the country and enabling the cross-fertilisation of previously 'siloed' knowledge pools.
Delivering next-generation capability
While it is too early for NGTF projects to yield definitive outcomes for Defence, according to Dr Kershaw many are showing great promise and all are contributing to the national knowledge base.
"Every piece of research that is undertaken produces knowledge and experience that benefits future research," he said.
Some areas of research are more advanced than others, with a number already progressed to higher technology readiness levels that could put capability in the hands of the warfighter in the near future.
Promising developments in cyber technologies
In the area of cyber technologies for example, researchers from CSIRO's Data61 and the University of South Australia have designed, developed and demonstrated a prototype wireless network with a greater range and data rate than traditional radio networks. Importantly for troops on the ground, this enhanced functionality has been achieved with no increase in the size, weight or power requirements of the equipment.
A quantum leap in quantum technologies
In potentially ground-breaking quantum research, scientists from Defence, RMIT University, and the universities of Adelaide, Melbourne, and South Australia have had a major breakthrough in their quest to combine diamond with glass to create a new quantum sensor. This promising research could enable the creation of low-cost sensor networks of enormous benefit not only to Defence, but areas such as mineral exploration or even brain scanning.
De-risking our reliance on space systems
Through the NGTF, Defence is a member of the SmartSat Cooperative Research Centre (CRC) which is fostering home-grown expertise in space-related fields, including advanced telecommunications, intelligent satellite systems and next generation data services.
Developing next-generation camouflage
Researchers from the University of South Australia have made promising progress in the development of adaptive camouflage, successfully producing lightweight polymer panels that automatically change colour to blend in with the environment. Such technology has the potential to significantly enhance the stealth capabilities of Defence drones, enabling them to change colour like a chameleon.
Strengthening our medical countermeasures capabilities
A Medical Countermeasures initiative co-funded by CSIRO and the NGTF, and run by DMTC is building Australia's ability to develop and produce medical interventions such as vaccines, and therapeutic and diagnostic technologies.
To date, several diagnostic systems have been developed under the initiative and progressed through accreditation procedures. Although they are yet to be approved, the technology associated with these diagnostic tools has been matured to a manufacturing level. Once approval is attained, these tools can be rapidly transitioned to use.
Looking ahead to 2026
Dr Kershaw is excited about what the Next Generation Technologies Fund could deliver at the end of its 10-year funding window.
"We've already seen some really promising indications of technologies that could be on the horizon," he said.
"These are technologies that won't just benefit Defence, these are developments that could potentially have much broader implications.
"The space race demonstrated to us just what mission-directed research can achieve. Not only did it get a man on the moon, it produced technologies that we all use today in our daily lives - memory foam, freeze-dried foods, LED lighting.
"It's my hope that in 2026, we'll be announcing technologies with the same potential."