C-130J Large Aircraft Infrared Countermeasures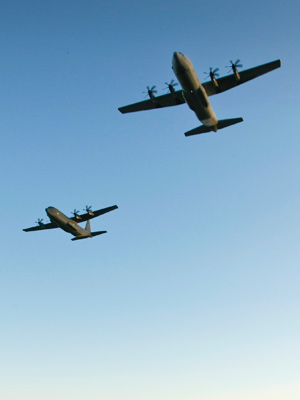 AIR 5416 (Phase 4B2) will provide additional Electronic Warfare Self-Protection (EWSP) for the C-130J aircraft through the installation of a directed infrared countermeasure system - the Large Aircraft Infrared Countermeasures (LAIRCM) system.
The LAIRCM technology is leading edge and is strictly controlled. Fitment of LAIRCM to C-130J will see a common EWSP suite used for protection of all the Australian Defence Force's (ADF's) wide body high value aircraft.
DST Group provides science and technology (S&T) advice in support of the levels of survivability that could be delivered by various EWSP options, including the LAIRCM.
DST also provided S&T advice on the performance and advantages of several fitment options including turret location and various types of sensors for the planned LAIRCM fit to C-130J.
DST continues to provide S&T support in the consideration of improved qualification options leading to the Full Operating Capability scheduled in 2019.