Military satellite communications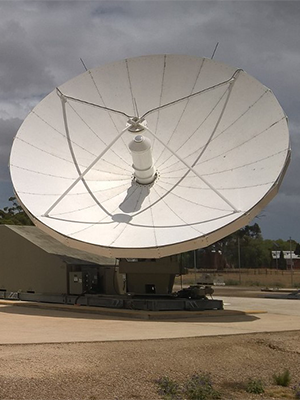 Satellites provide the primary means of long range communications for the Australian Defence Force (ADF).
ADF has access to worldwide high quality and high capacity communications satellites and is moving to upgrade its existing ground terminal fleet and anchor stations to complete its next generation satellite communications system.
JP2008 is a multi-phased project of long duration providing satellite communications to the ADF.
DST Group is assisting the design of the new systems with advice, modelling and simulation. Our current work in Phase 3F of the project entails upgrading the existing terrestrial infrastructure by provision of a major new satellite ground station complex in Geraldton WA, primarily to support operations on the US Wideband Global SATCOM program.
One example of DSTG satellite communication research that has been deployed into service within Defence is the Cortex satellite spectrum monitoring system. DSTG first trialled Cortex in 2013 in the lead up to Exercise Talisman Sabre, and since then it has significantly enhanced situational awareness and the detection of anomalies across Defence's satellite network.