Research into novel food processing techniques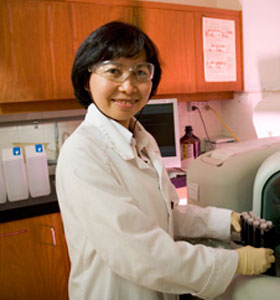 DST Group and CSIRO have conducted trials of a food processing technique known as high pressure processing (HPP).
HPP inactivates vegetative bacteria by applying pressures in the range 400-600 MPa (about 4 000 times atmospheric pressure) for several minutes. A short high-temperature treatment can then be applied to sterilise the food by killing spore-forming bacteria.
The advantages of HPP are that the taste, colour and texture, as well as nutritional value of the food remain closer to those of fresh produce than canned foods. This is because canning involves high-temperature processing that typically results in a cooked taste and a changed texture, often with the loss of some nutritional quality.
Trials to date have been carried out on five varieties of pears grown in Tasmania, with a focus on establishing food processing technologies capable of delivering palatable and nutritious foods with a shelf life of two years at 30 degrees C (a Defence requirement).
The trial results showed that HPP was effective in reducing microbial counts and maintaining pear texture for a 16-week storage period for all the pear varieties tested. These results met initial expectations, and further research will now be undertaken to investigate ways of minimising in-pack 'browning'.