Physical Employment Standards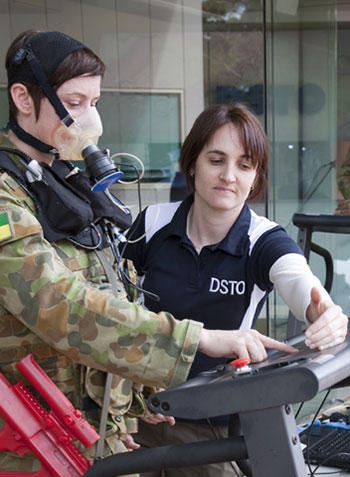 DST Group is developing a set of performance standards that will optimise the matching of personnel capabilities to tasks.
The University of Wollongong is assisting this work through a partnership with DST Group.
The problem with previous work performance standards is that they can lead to individuals either being unnecessarily excluded from a role, or selected for a position for which they are unsuited.
By establishing standards that are truly representative of military tasks, Defence can make an accurate assessment of a person's physical capacity to perform a particular job, regardless of trade classification, rank, age or gender. Better fitness of personnel for the required tasks means improved performance outcomes, reduced injuries, increased availability for operations and training and reduced costs for health care and compensation.
For each of the employment categories within Defence, the process of developing physical employment standards involves:
undertaking task observation and analysis to identify key employment category tasks to be used for physical employment standards development
developing employment category-specific physical employment tests and protocols
refining and verifying these tests and protocols on a representative sample.
This work is being carried out through the Physical Employment Standards Centre of Expertise established by the two organisations in 2009.
Timeframe
Employment Categories Reviewed
June 2006 - August 2007
Army Artillery (RAA)
September 2007 - June 2009
Army Transport Corps (RACT)
Army Ordnance Corps (RAAOC)
Army Medical Corps (RAAMC)
Army Dental Corps (RAADC)
Army Catering Corps (AACC)
July 2009 - December 2010
Army Armoured Corps (RAAC) Army Engineers (RAE)
Army Transport Corp (RACT) continued
Army Ordnance Corps (RAAOC) continued
Army Electrical and Mechanical Engineers (RAEME)
November 2010 - December 2011
Army Artillery (RAA) continued
Army Infantry (RAINF)
Army Aviation (AAAVN)
Air Force Airfield Defence Guards
Navy Clearance Diver
October 2011 - December 2012
Army Artillery (RAA) continued
Army Signals Corps (RASIGS)
Army Australian Intelligence (AUSTINT)
Army Military Police (RACMP)
Army Band Corps (AABC)
Army Infantry Special Forces (RAINF-SF)
Army Transport Corps (RACT) continued
January 2013 - June 2016
Remaining Air Force employment categories as well as developing a generic seagoing standard for Navy.
July 2016 - June 2019
Remaining Navy employment categories.