Strategy |
Agile Command and Control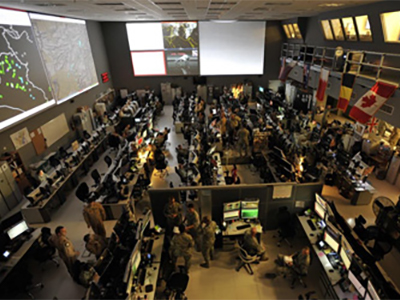 Through faster and superior decision-making, enable the Australian Defence Force to deliver synchronised effects across all domains and operational levels.
'The Joint Command and Control system is our most important warfighting system. It is the glue of the joint fight, turning individual capability elements into a synchronised, coherent force delivering an operational edge to Australia.'
— LTGEN Greg Bilton, Chief of Joint Operations, 2020
Context
Prevailing in complex and contested environments will require the ADF to bring together capabilities from across all domains of warfare (air, maritime, land, space and information and cyber) to achieve complementary and coordinated effects. Future ADF operations will comprise complex, high-velocity manoeuvres that will present multiple dilemmas to any adversary at an unmatched tempo.
The ADF already conducts operations across the domains; however, command and control (C2) is currently labour intensive and cognitively complex. Greater agility is needed to deliver operational advantage across the continuum of conflict. The future C2 capability must be robust, resilient, responsive, flexible, adaptive and reconfigurable; and it must be able to handle many concurrent and unforeseen situations.
Developing an agile C2 system designed to work across all operational environments is recognised as an essential capability that enables delivery of tactical and strategic effects. Warfighters need to understand both the environment in which they operate and the effects they want to generate. Our future C2 system will connect, synchronise and integrate capabilities and effects with a variety of partner nations to deliver a force-level advantage to decision-makers at all operational levels, allowing them to understand, shape and dominate the future battlespace. Agile C2 will permit Australia to make better use of its military assets by enabling greater delegation of authority and faster, better-informed decision-making.
Opportunities
Artificial intelligence, human-machine teaming, autonomy and real-time battle simulation modelling to assist decision-making.
Organisational structures and cultures that promote greater headquarters agility.
Information, visualisation, augmented reality and virtual assistants providing enhanced situational awareness and sense-making.
Architectures for C2 distributed to the warfighter.
Exploitation through data analytics of vast quantities of increasingly diverse data sets.
Innovative human, social, cultural, and technical systems enabling agile organisational forms and commanders to rapidly execute command intent.