Event |
National Science Week 2020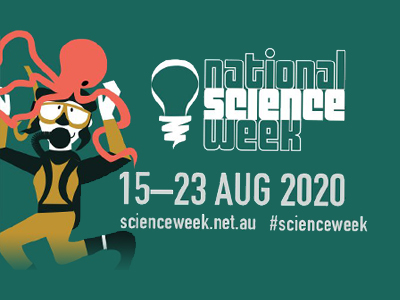 Every year, Defence is proud to participate in National Science Week, celebrating and acknowledging the amazing contribution of our scientists, technologists, engineers and mathematicians.
A highly skilled STEM workforce is critical to Australia's Defence and national security capabilities. Throughout National Science Week this year, we shared the following stories of how our STEM workforce is working to support Defence capability:
'STEM saving lives' showcase
In line with the 'STEM saving lives' theme, we created a showcase of some of the 'life-saving' work of our STEM workforce. Visit our 'STEM saving lives' showcase.
Deep Blue Defence

In partnership with the Australian Academy of Science, we hosted a series of web shows with STEM professionals across Defence which was streamed to upper primary and secondary students. Topics included:
Glowing Blue with Clare Grandison
Sensing Blue with Dr Brad Evans
Atmospheric Blue with LCDR Helen Imlay-Gillespie
The webinars are aimed at students from Year 6-12.
Glowing Blue - Clare Grandison, Environmental Scientist
Bioluminescence is one of nature's great wonders, as well as one of its greatest mysteries. The term luminescence refers to the emission of light with no heat. Bioluminescence as the names suggests is the production and emission of light by living organisms and it has fascinated scientists, artists and philosophers for thousands of years. Clare will talk about her discipline of Environmental Signatures and the extensive research program working to understand bioluminescence, its occurrence, possible implications in terms of threat and detectability and how humans may be able to utilise these features of the Deep Blue Ocean.
Sensing Blue - Brad Evans and Robert Dane
The future is submersible….with Australia building its own submarines now, what is the future for all things Deep Blue? Join Brad & Robert as they talk about how innovative sensors are updating our knowledge of the oceans like never before, and how this technology is utilised on submersible vehicles.
Atmospheric Blue - LCDR Helen Imlay-Gillespie