Understanding our reactions to the COVID-19 pandemic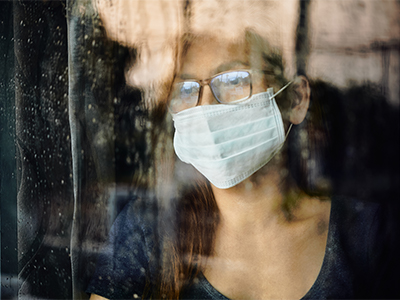 As cities around the world contend with varying degrees of lockdown to manage the spread of COVID-19, Defence scientists in Australia are developing tools to assess how a society is likely to react to such measures.
The pandemic has placed a heavy burden on governments to respond with policies that are effective and sustainable for extended periods. It would be useful for a government to have a litmus test that tells it how the population is coping; one which points to strategies that policy makers can employ to improve our readiness for further lockdowns and other impositions.
Defence scientist Dr Eugene Aidman (DSTG) and collaborator Dr Sabina Kleitman (School of Psychology, University of Sydney) struck last year while the pandemic iron was hot, taking the opportunity to pivot science that is improving soldier cognitive fitness towards assessing our society's mental health and ability to cope with the strange pandemic world.
For some years, the pair has been helping Defence to understand cognition in order to improve soldier task performance. Aidman's all-encompassing Cognitive Fitness Framework (CF2) identifies the key ingredients underpinning both real-time task performance and career longevity in high-risk occupations, and is a designed as guide for assessing, training, and improving the performance of Defence personnel.
Helping us cope with COVID-19
Aidman and Kleitman postulated that the CF2 principles could be applied in a broader public health context to drive better adjustment and cognitive recovery in the general public during prolonged, potentially high-risk events, such as public health emergencies.
"The COVID-19 pandemic offered a unique, naturally occurring opportunity to examine this likelihood empirically," Sabina told delegates at the 2020 Defence Human Sciences Symposium. "We wanted to explore the role of adaptability and mental resilience in compliance behaviour and mental well-being, and for predictions about readiness for another lockdown. Interviewing was a race against time because we really wanted to capture people in the recovery stage. We were then able to conduct a third study just as we hit the second lockdown in the eastern states."
Sabina says the research had three main objectives:
To use the unique natural situation created by COVID-19 to ascertain if Aidman's Cognitive Fitness Framework can be used with the general population;
To determine the factors behind positive and adaptive responses following the first wave peak and lockdown to predict future lockdown readiness and current mental well-being;
To guide identification and assessment of the cognitive attributes that can be targeted during periods of prolonged uncertainty, to help prepare for future threats.
Surviving made us stronger
Through the study, the researchers discovered ways to predict the average citizen's mental well-being and whether they would be ready for a further lockdown (or other high-risk event).
As might be expected, the data showed that people would be less ready if they were experiencing COVID-19 fatigue or had experienced a negative COVID-19 impact (remembering that for some of us, COVID-19 had a positive impact through things like ability to work from home, and spending more time with children).
Pre-existing resilience, adaptability skills, strong social support, good financial security, experiencing personal growth through COVID-19 and a positive COVID-19 impact were predictors of good mental well-being.
The results pave the way for future experimental studies investigating the role of the newly proposed "metacognitive resilience growth factor" (assessing one's own thought processes, and understanding how one's resilience is growing through experiencing an event) in recovery from challenging events.
Important predictors of pandemic readiness
Aidman and Kleitman's work offers valuable options for assessing mental readiness for public health emergencies such as pandemics. The survey tools they developed complement the broader effort by DSTG and its research partners to develop cutting-edge methods of measuring and enhancing cognitive fitness through selection, training and operational support.
Related research will be presented at the Defence Human Sciences Symposium (DHSS) later this year. DHSS is the principal Australian forum for those interested in the application of human sciences research to enhance Defence capability. DHSS 2021 will be co-hosted by Victoria University and the Department of Defence on 29 November – 01 December at Victoria University's Footscray campus and online. Abstracts are now being called for DHSS 2021. Find further information here.
Resilience, adaptability and cognitive readiness in the face of COVID-19: Validating CF2 constructs as predictors of lockdown readiness and mental well-being - Sabina Kleitman, Lisa Zhang, Dayna J. Fullerton (School of Psychology, University of Sydney) & Eugene Aidman (DSTG). Presented at the Defence Human Sciences Symposium (DHSS) 2020