Brochure |
Diggerworks: Driving innovation and effectiveness in the defence sector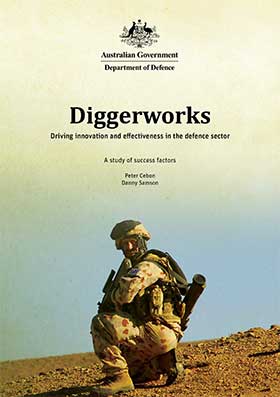 Diggerworks is a joint initiative between DST Group, Army, the Capability Acquisition and Sustainment Group and the Capability Development Group to identify and deliver technology to enhance the fighting capability of our frontline soldiers and tactical unit.
Diggerworks: Driving innovation and effectiveness in the defence sector brings out many insights gained in the process that have underpinned the accelerated delivery and integration of a soldier system that is being continually adapted to the evolving needs of the soldier.
The study undertaken by Danny Samson, Professor of Management at the University of Melbourne and Dr Peter Cebon, former Senior Research Fellow at the University of Melbourne, analysed the success of the Diggerworks initiative.