National Security Science and Technology Centre (NSSTC)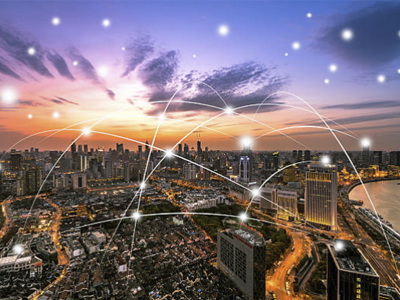 Due to the fast moving nature of the terrorist threat, Australia needs to remain on the forefront of science and technology in order to remain agile and anticipative of new and emerging threats.
Current Australian Government Policy is that Defence, specifically Defence Science and Technology (DST), has the responsibility to coordinate national security science and technology.
DST is recognised as having expertise across key areas of science and technology delivery, experience in establishing and managing diverse research programs, and strong connections with domestic and international science and technology providers.
The responsibilities of the National Security Science and Technology Centre (NSSTC) within DST are to:
Coordinate Whole-of-Government National Security science and technology, to prioritise science and technology requirements, reduce duplication and improve impact;
Foster academic and industry science and technology partnerships to build national science and technology capability and enhance targeted delivery to Australian national security agencies;
Foster international research collaboration to leverage state of the art capabilities for Australia; and
Manage DST's national security science and technology program, maximising dual-use application of DST sovereign capabilities.
Context
Australia's national security arrangements are underpinned by multiple agencies working across diverse areas. These agencies are increasingly using advances in science and technology to enhance Australia's national security capability.
Given the recent terrorism events around the world, there is no disputing the need to have Australia's national security science and technology efforts coordinated across government to enable our national security agencies access to the best expertise and resources to efficiently and effectively address their immediate and long term challenges.
Policy and Priorities
The National Security Science and Technology Policy and Priorities was developed by the NSSTC in close consultation with the national security community and received endorsement at the 13 November meeting of the National Security Science and Technology Interdepartmental Committee.
The National Security Science and Technology Policy and Priorities document provides the science and industry community with visibility of the endorsed national security science and technology focus areas, governance arrangements and engagement mechanisms.
The six endorsed priorities contained in the policy are: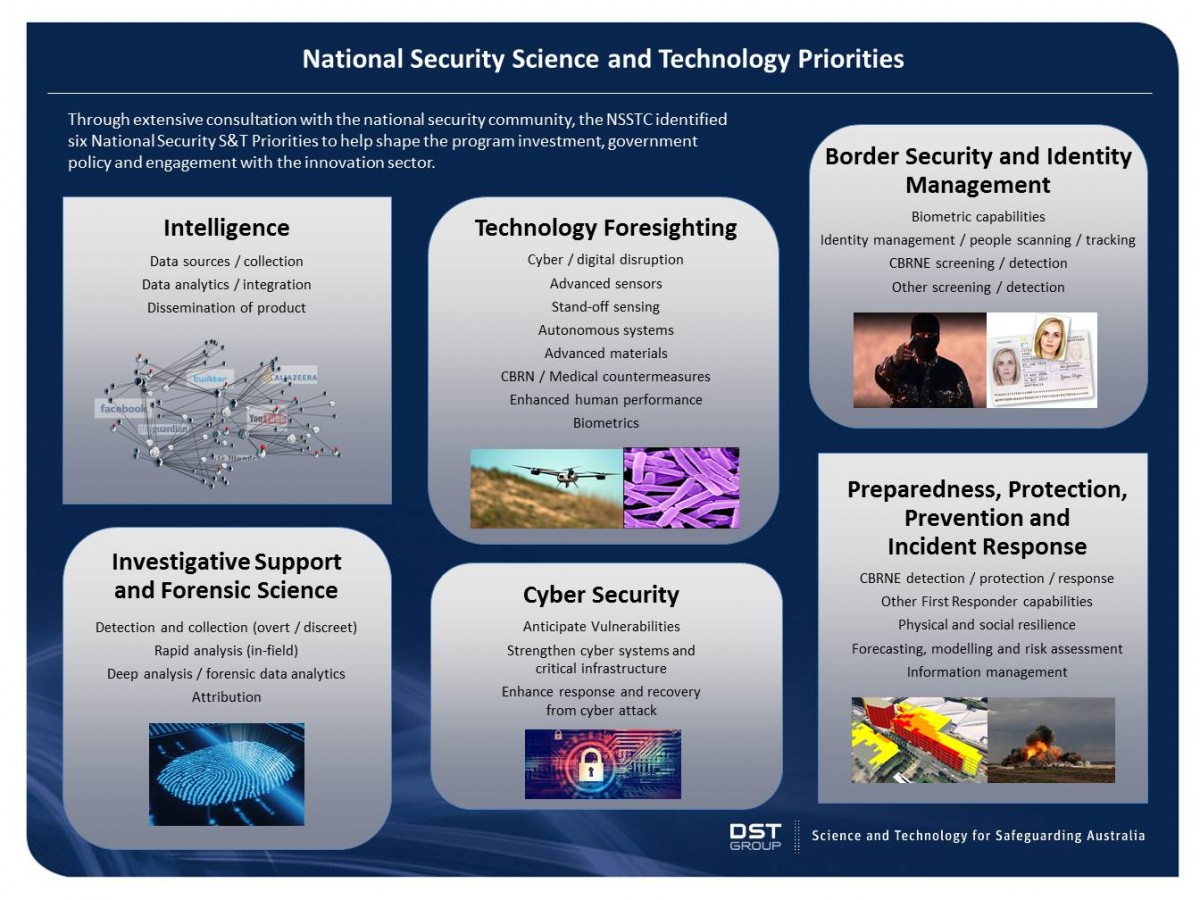 Current Situation
A National Security Science and Technology inter-departmental committee (NSST IDC) at the Band Three level (co-chaired by CDS and the Department of Prime Minister and Cabinet) steers the national security science and technology program and provide governance. The NSST IDC provides strategic direction for national security science and technology, coordinates investment across the sector, enables interdepartmental coordination and oversees the development and delivery of the science and technology program.
The previous cross-agency Band 1 Round Table meeting has been repurposed to actively shape the national security science and technology requirements against the agreed priorities, with the first meeting held on 8 May 2017. In order to better understand and refine the individual agency requirements, the NSSTC is embedding Science Counsellors and is holding regular workshops on specific themes.
Partnerships
The NSSTC engages with the federal national security agencies through the NSSTC IDC and the jurisdictions through the Australian New Zealand Counter Terrorism Committee in order to understand their science and technology requirements. The NSSTC then seeks an appropriate provider who can address the agency requirement, whether they be one of our international partners, a publicly funded research agency (PFRA), industry, or within DST.
Another mechanism the NSSTC intends to utilise to publicise science and technology requirements and elicit an appropriate provider is the Defence Innovation Portal, as demonstrated by the following diagram: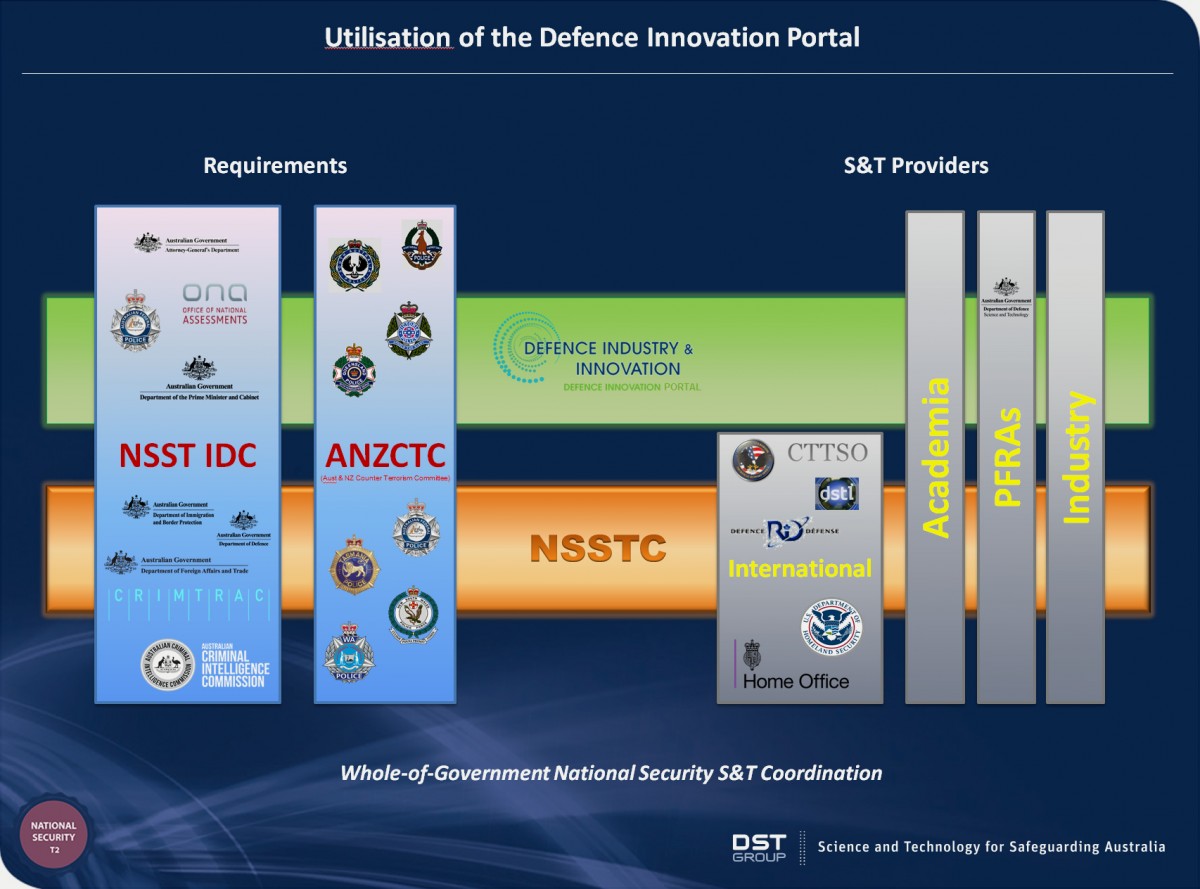 Please note that proposals to address specific national security requirements will be advertised through targeted mechanisms such as the Defence Innovation Portal. The National Security Science and Technology Centre is only resourced to consider proposals addressing advertised requirements.
Selected Achievements
DST continues to maintain bilateral Memorandums of Understanding with a number of international and domestic agencies where national security is a specific focus.
In addition to the recent establishment of the NSST IDC, whole-of-government approval of the six national security science and technology priorities and repurposing of the cross-agency Band 1 Roundtable meeting, some specific examples of DST outcomes are below:
International Home Made Explosives Working Group Conference
In May 2017, DST Edinburgh hosted the annual meeting of this classified working group and attracted 101 delegates from six participating nations. Organised by Weapons and Combat Systems Division, with support from the NSSTC, the sharing of national program information was made possible by the US CTTSO, with whom each of the participant nations has an agreement. The International Counter Homemade Explosives Working Group is a forum that brings together International, Interagency, National Labs, and DOD entities to present current and emerging global home-made explosive threats and discusses research and development on equipment and technologies to counter those threats. The Working Group provides a forum for the purpose of synchronising training, equipment, analytical studies, and countermeasure efforts to ensure operational forces and national security agencies have the best tools to face this global threat.
Support to the Australian Federal Police (AFP) investigation into the MH-17 disaster
Advice to focus the AFP search for wreckage in Ukraine
Briefings to the Joint Investigative Team and international partners in the Netherlands
3D digital model of the reconstructed wreckage
Scientific review of a field trial conducted in Ukraine
Biometrics for identity assurance
Ongoing scientific input to the Attorney General's Department National Facial Biometric Matching Capability
Quantified the effect of Glasses on Facial Recognition Performance
Unconstrained face-in-a-crowd evaluations
Quantification of the effects of age and ageing on facial matching of human and algorithms
Structural Vulnerability Support to the G20 Summit in Brisbane


DST used knowledge of vehicle and back-pack bombs, with validated modelling software to advice G20 event and operational planning. This work resulted in the following outcomes:
Identification of suitable exclusion zones
Relocation of vehicle check-points and drop-off zones
Suitability of meeting and lunch locations for delegates
Identification of emergency ingress and egress routes for first responders in buildings
Significant cost savings – prevented the use of unnecessary protective window treatments (due to exclusion zones)
Advice deconfliction
Cyber Open Source Methods and Operations course
This course was hosted by DST and is provided as a 2-week social media exploitation course. Previously this specialist course was only available in the US, but through our collaborative arrangement, it was tailored for Australian use and delivered in Canberra, where it was very well attended by Defence and other agencies.