National Security Science and Technology Centre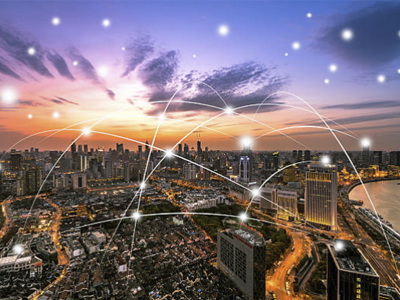 Due to the fast moving nature of the terrorist threat, Australia needs to remain on the forefront of science and technology in order to remain agile and anticipative of new and emerging threats.
Current Australian Government Policy is that Defence, specifically Defence Science and Technology (DST), has the responsibility to coordinate national security science and technology. DST is recognised as having expertise across key areas of science and technology delivery, experience in establishing and managing diverse research programs, and strong connections with domestic and international science and technology providers.
The responsibilities of the National Security Science and Technology Centre (NSSTC) within DST are to:
Coordinate Whole-of-Government National Security science and technology, to prioritise science and technology requirements, reduce duplication and improve impact;
Foster academic and industry science and technology partnerships to build national science and technology capability and enhance targeted delivery to Australian national security agencies;
Foster international research collaboration to leverage state of the art capabilities for Australia; and
Manage DST's national security science and technology program, maximising dual-use application of DST sovereign capabilities.
Whole of government coordination
The NSSTC engages at the state and federal level through the following mechanisms:
A National Security Science and Technology inter-departmental committee (NSST IDC) at the Band Three level, co-chaired by the Chief Defence Scientist, provides federal level engagement, steers the national security science and technology program and provides governance.
The Australian New Zealand Counter Terrorism Committee and its sub-groups provide engagement with the jurisdictions.
The previous cross-agency Band 1 Round Table meeting has been repurposed to actively shape the national security science and technology requirements against the agreed priorities.
NSSTC is seeking to further embed Science Counsellors within the agencies and is currently negotiating staff exchanges with the national security agencies.
Most recently, trilateral secretary level discussions on the National Security Science and Technology function indicate a much more strategic and aligned partnership between Defence, Home Affairs and the Office of National Intelligence into the future.
The National Security Science and Technology Policy and Priorities, as foreshadowed in the 2016 Defence Industry Policy Statement, were agreed by the NSST IDC in November 2017 and were released by the then Minister for Defence Industry, Minister Pyne, in May 2018. This document provides the science and industry community with visibility of the endorsed national security science and technology focus areas (below graphic), governance arrangements and engagement mechanisms.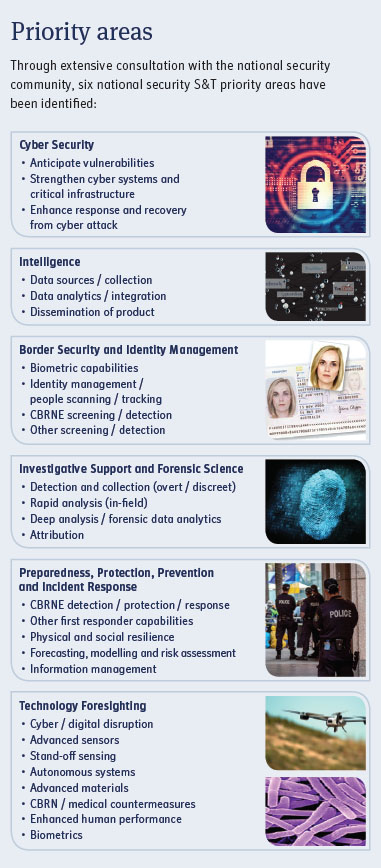 Fostering academic and industry partnerships
The NSSTC continues to strengthen national science and technology partner capabilities to enhance targeted delivery to the Australian national security agencies. NSSTC participated in the May 2018 Civil Security Congress and Exposition which provided an opportunity to widely engage with Australian industry.
Of particular note, two Australian companies have produced equipment in the areas of explosive trace detection and stand-off detection of improvised explosive devices following receipt of NSSTC development funding.
Some current projects include:
Novel fingerprint detection techniques
Developing CBRN risk protocols to ensure first responder safety
Please note that proposals to address specific national security requirements will be advertised through targeted mechanisms. The National Security Science and Technology Centre is only resourced to consider proposals addressing advertised requirements.
Fostering international collaboration
The NSSTC maintains bilateral Memorandums of Understanding with the following international partners:
| | |
| --- | --- |
| | US Department of Homeland Security |
| | US Combatting Terrorism Technical Support Office |
| | UK Home Office |
| | Canadian Centre for Security Science |
| | New Zealand Ministry of Business, Innovation and Employment |
Building on the successful bilateral engagements between allied nations, a Five Nation Research and Development Initiative (5RD Initiative) has recently been established which seeks to create new opportunities to deliver more efficient and cost-effective access to results, expand research, development, testing, and evaluation capacity, and offset limitations in a constrained and fluctuating budget environment. The objectives of the 5RD Initiative are to:
DISCOVER collective knowledge of emerging threats and risks;
CONNECT with each other to coordinate RDT&E planning and prioritisation for efficiency and cost-effectiveness; and
LEVERAGE each other capability to avoid efforts and duplication.
Some examples of recent international projects include:
Five Eyes Forensic and Technical Exploitation Handbook
Technology Foresighting.
DST's national security science and technology program
The NSSTC drives dual-use application of sovereign DST technology encouraging applicability in both military and national security environments.
DST has directly contributed to the nation's security through the delivery of national security science and technology solutions in areas such as facial recognition algorithms, video analytics, vehicle survivability, decision support systems, blast modelling, cyber open source training, home-made explosive characterisation and threat assessments, toxic chemical detectors and support to numerous operations.
Specific recent work includes assistance with the characterisation of the threat for the aviation security incident in Sydney July 2017 and the update on an MH-17 report to European Courts.