Strategy |
Executive summary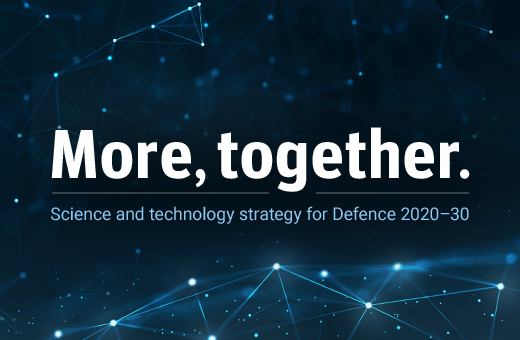 Focusing our national S&T enterprise on mission-directed research will ensure Defence is best positioned to realise capability advantage in a rapidly evolving environment.
Defence science and technology (S&T) plays a critical role in Australia's defence and national security by ensuring that our forces maintain a capability edge. Defence research has yielded iconic capabilities such as the Black Box flight recorder, the Jindalee Operational Radar Network (JORN) and the Nulka active missile decoy. S&T support to operations, including the development of technology to counter improvised explosives, not only enhances operational outcomes but can also save lives. Expert advice supporting major Defence acquisitions – such as the Joint Strike Fighter and the Future Submarine – helps to shape future capabilities to meet Australia's unique needs, and provides a basis for robust and contestable investment decision-making.
The Defence S&T Strategy is an important step in taking us into the future. DST will continue to lead the development and application of S&T to support Defence's needs in acquisition, sustainment and support to perations, including strategic elements such as the Australian Signals Directorate. DST will also continue to lead the coordination of S&T for Australia's national security community through the National Security Science and Technology Centre. This includes delivering S&T support to national security agencies and leveraging dual-use (defence and national security) technologies where DST has unique, sovereign and classified capabilities.
This strategy will generate a major transformation in the way we partner with the national S&T enterprise to achieve impact through strategic research. It is headlined by the introduction of a new concept – STaR Shots (Science, Technology and Research Shots). In the spirit of pioneering defence S&T achievements, STaR Shots will inspire and focus the national S&T enterprise on large-scale programs of work that lead to specific leap-ahead capabilities for the Australian Defence Force. A set of eight STaR Shots are introduced, each aligned to future Force Structure priorities and endorsed by at least one Defence 3-star sponsor. They represent the most challenging, high impact capabilities that are best solved through S&T. Importantly, each STaR Shot will be established with a developed path for introduction into service. To support the conduct of STaR Shots and a scaling up of the broader Defence science and technology program, this strategy also introduces three strategic pillars:
One Defence S&T capability: leading, shaping and growing Australia's defence S&T enterprise and the coordination of S&T capability to support Defence's needs.
Brilliant people, collaborative culture: developing a highly skilled and collaborative workforce, recognising diversity in partnerships and building a shared culture.
Outstanding research infrastructure powering innovation: providing the necessary physical and digital research environments, building Defence precincts and embracing opportunities to share infrastructure.
This strategy document provides new guidance to achieve a sharper focus on key areas of S&T and increased scale to maximise impact for Defence. A forthcoming document outlining the Strategy Implementation Framework will provide further details on the governance, processes and systems that will be put in place to engage partners and deliver the strategy.