Aircraft performance and survivability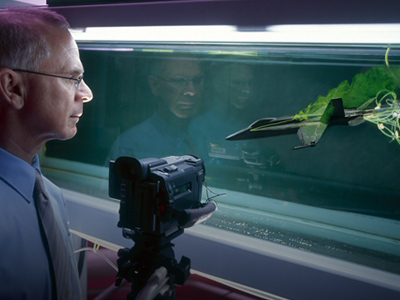 The Aircraft Performance and Survivability branch of Aerospace Division conducts applied research in the broad disciplines of aerodynamics, aerothermodynamics, aero-elasticity and aerial autonomy.
These core disciplines underpin system-level performance, survivability modelling and innovation for aircraft flight, propulsion, infrared signatures, stores carriage and clearances, and unmanned aerial systems.
Major outputs for this branch are in electronic warfare, intelligence, aerospace operational support and acquisition projects, in addition to strategic research programs in areas such as autonomy, energy and signatures.
The Aircraft Performance and Survivability branch relies upon several national test facilities, including the transonic wind tunnel, the low speed wind tunnel and the combustion test facility, to provide expert advice to Defence.
Unmanned aerial systems
Our Unmanned Aerial Systems group undertakes research on the application of unmanned aerial systems (UAS) in a military environment. This includes:
operational analysis, system level analysis, airspace integration, regulatory requirements and acquisition advice
UAS platform technologies and manufacture, including novel design and system integration
UAS guidance, navigation and control
UAS sensor systems
data fusion and dissemination
human-machine interfaces and autonomy
UAS flight test and trials.
Aerodynamics and Aero-elasticity
Our Aerodynamics and Aero-elasticity group conducts research into steady and unsteady fluid dynamics in flow regimes ranging from incompressible, subsonic, transonic, supersonic and hypersonic.
This research is applied to: fixed wing flight vehicles; submarines and surface vessels; aero-elastic and structural dynamic behaviour; flight dynamic behaviour; aircraft performance, weapon aerodynamics and integration.
Our infrastructure in this area includes:
national aerodynamic test facilities (Low speed and Transonic wind tunnels)
Water tunnel
Vibration and aero-elasticity laboratory
deployable ground vibration capability
major computational hardware supporting a suite of fluid dynamic and aircraft performance software.
Infrared signatures and aerothermodynamics
Our Infrared Signatures and Aerothermodynamics group provides measurement and modelling of infrared signatures and low-observable technology for aircraft survivability.
The group generates validated infrared models for aircraft and missiles in support of the Airborne Countermeasures Development and Validation Program.
Work in this area also includes the assessment of aerothermodynamics of aircraft engines and power thermal management systems, in addition to experimentation in propulsion aerothermodynamics and infrared signatures.
Our infrastructure in this area includes:
thermal test precinct (Combustion test facility)
Infrared suppression test facility
compressor building and fuel farm
calibration and trials preparation laboratory
mobile infrared measurement laboratory
numerical modelling hardware and software