Summer Vacation Placement Program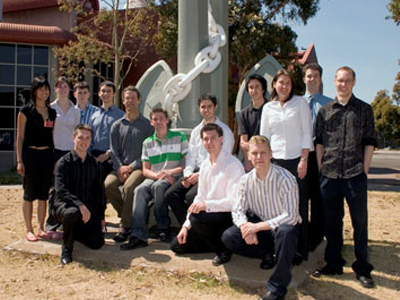 Each year DSTG offers a limited number of scholarships over the University summer vacation period.
The Summer Vacation Placement (SVP) is a 12-week paid program for high-performing undergraduate Science, Technology, Engineering and Mathematics (STEM) students. SVP students are supervised by DSTG staff and use skills gained at university to work on a current Defence project. The program commences late November/early December to coincide with the university summer break.
SVP provides successful applicants with the opportunity to gain work experience in a large research organisation. Successful applicants undertake a research project, work at a DSTG laboratory under the supervision of science and technology staff, and receive a support payment.
Successful applicants are responsible for their own travel, accommodation and associated costs.
Projects may be available at any DSTG site across Australia.
Applications are now open. Submit your application before Monday 19 July 2021 to be considered for one of these exciting opportunities. The application form can be found here.
Eligibility requirements
To be eligible for the SVP you must:
be an Australian citizen;
be a full-time tertiary student who will undertake full-time tertiary studies in the following year;
have completed a minimum of two (2) years of tertiary study (full-time or equivalent) before starting a project;
be available to undertake a full-time work placement between November and February; and
be able to obtain a Baseline security clearance.
For further information, please contact the STEM Programs Team on FGRZCebtenzf@qfg.qrsrapr.tbi.nh
Aboriginal and Torres Strait Islander Students
At DST, we want a workforce of talented people who excel and innovate by harnessing different views, ideas and experiences. We embrace diversity, and value the contribution Aboriginal and Torres Strait Islander people bring to our workplaces.
Eligible Indigenous students can apply for this program through the Indigenous pathway at Defence APS Jobs.
If you apply through this pathway, you will commence in the same program as your peers, under the same conditions.
Any question relating to Indigenous recruitment can be forwarded to the Indigenous Engagement Team.