Spectrum sensing and shaping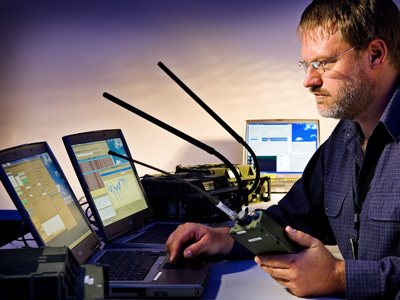 The Spectrum Sensing and Shaping branch of Cyber and Electronic Warfare Division has advanced expertise in radio frequency (RF) phenomenology and systems, subsystems and devices and the associated digital signal processing and computing technologies and architectures.
This expertise is applied to the development of sensors and effectors for situational awareness in a complex RF environment and to defeat the future networked electronic warfare (EW), cyber and kinetic threat.
The Spectrum Sensing and Shaping branch provides advice to Defence for acquisition, operations and force-in-being.
RF technologies
Our RF Technologies group undertakes analysis and development of subsystems and systems for next generation RF EW sensors and effectors for self-protection and survivability.
We provide advice and subsystems to a joint project with a US partner. We also develop specialist electronic intelligence (ELINT) systems for the Australian Defence Force (ADF).
RF systems
Our RF Systems group undertakes research and development with respect to next generation RF EW architectures and systems for surveillance, threat warning and situational awareness, with a focus on commercial-off-the-shelf (COTS) based wideband RF sensors and digital multichannel processing architectures.
RF techniques
Our RF Techniques group undertakes mathematical and statistical algorithms development and implementations for RF signal detection, characterisation and localisation, with a particular emphasis on wideband multichannel and distributed sensors.
We have a strong history of development and delivery of ELINT analysis tools for Defence; and a particularly strong engagement with the Royal Australian Navy (RAN) in delivering tools for situational awareness.