Strategy |
Defence Science and Technology Strategy 2030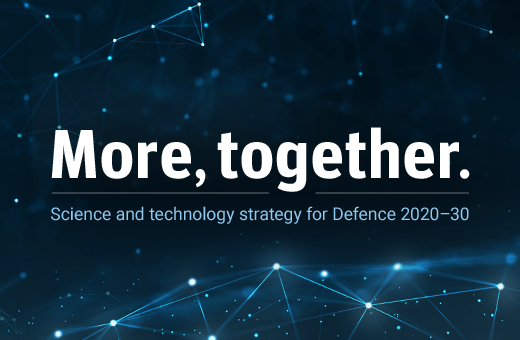 More, together sets the directions for Defence science and technology (S&T) out to 2030.
It outlines our ambitions, aspirations and establishes the overall S&T priorities for Defence. This strategy seeks to ensure the national S&T enterprise is nurtured and leveraged to achieve scale in the resources that are applied to research problems. It includes initiatives to focus resources on Defence's highest strategic priorities, and supports more streamlined transitioning of ideas into capability. Embracing these challenges will ensure that our military forces have a strategic advantage achieved through leap-ahead capabilities to prevail in contested environments.
The key objectives of the Strategy are to:
Focus on larger S&T programs supporting Defence strategic priorities.
Increase scale by partnering within the national S&T enterprise and international partners.
Deliver impact and a capability edge through streamlined and secure innovation pathways.
The Strategy is underpinned by three strategic pillars and introduces the Science, Technology and Research (STaR) Shot concept. While the STaR Shots focus the national S&T enterprise on Defence objectives to deliver leap-ahead capabilities, the strategic pillars enable the STaR Shots and support the broader Defence S&T program.