Weapons and combat systems assessment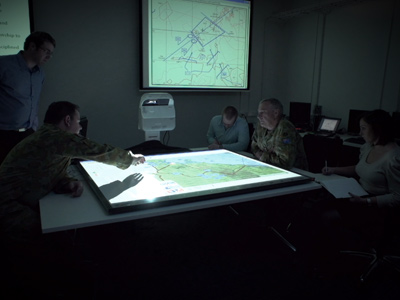 The Weapons and Combat Systems Assessment branch of Weapons and Combat Systems Division conducts research and development (R&D) of advanced fit-for-purpose modelling, simulation and analysis capabilities.
This is used to assess individual weapon system performance as well as end-to-end combat system effectiveness.
The analysis of overall system performance and system of systems effectiveness are critical to understanding the capability of elements supporting both war fighter needs and reducing the technical risks in capability development projects.
To undertake these tasks, the branch develops portable fit-for-purpose validated digital models that encapsulate our best understanding of Australian Defence Force (ADF) and potential threat weapon and combat systems.
Advanced modelling and simulation
Our Advanced Modelling and Simulation group uses leading edge modelling and software/systems engineering practices to maintain, evolve and develop the modelling and simulation architectures, methods, tools and toolboxes needed for weapon and combat system modelling, simulation and analysis.
We maintain and evolve significant software, computing and laboratory infrastructure, including the Opal modelling and simulation (M&S) capability, M&S server farms and the ANZAC Combat System Integration Laboratory (ACSIL).
The group also conducts research into analytical methods and contribute to the conduct of fit-for-purpose constructive and virtual simulation analysis and experimentation activities.
Weapons modelling and analysis
Our Weapons Modelling and Analysis group is responsible for the production and delivery of portable, fit-for-purpose weapon models and the conduct of ADF and threat weapon performance assessments.
These performance assessments apply weapon knowledge to support ADF Operations, capability development, tactics development and war fighter training.
The group employs mathematical and physics based modelling to integrate technical knowledge from the sensor, guidance systems, aerodynamics, propulsion and warhead disciplines. These models are used together with analytical techniques and telemetry/trials analysis to build understanding of ADF, threat and future/novel weapons. We exploit these models to analyse sub-system design options and other sub-system effectiveness questions in the system context. Finally, the models serve as a knowledge management tool to capture knowledge, identify gaps in data and transfer knowledge.
Combat systems effectiveness and analysis
Our Combat Systems Effectiveness and Analysis group is responsible for analysing the 'systems of systems' effectiveness of ADF and threat combat systems within the end-to-end engagement context.
This includes identifying, analysing and contributing to the treatment strategies of ADF capability development risk and war fighter needs.
Combat systems effectiveness and analysis is undertaken in an operational and 'system of systems' environment, and takes into account a wide range of elements, including threat tactics, physical environment, sensors, combat/battle management and mission planning systems, data-links and effectors.
The group is responsible for determining the fitness-for-purpose requirements for systems-level modelling, simulation and analysis approaches that span DST Group and external agencies.