Multi-Function Aperture (MFA) Grand Challenge Research Phase 2 Call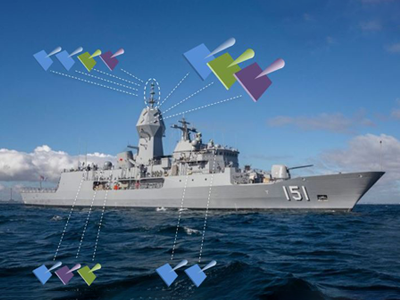 The Next Generation Technologies Fund (NGTF) seeks proposals from academia and industry to develop next-generation prototypes and key subsystems of phased array antennas capable of simultaneously supporting multiple RF functions being transmitted and received over a wide frequency band.
Submissions are now closed.
The program has been designed in three phases intended to run over at least a five-year period. The first phase of the program is supported by five Australian universities under a multi-party collaborative agreement. This phase develops the core concepts, addressing key S&T challenges and retiring risk to set up foundational technology pathways in the next phase. This phase will end in February 2022.
The Multi-Function Aperture Program is now seeking responses from interested industry and academic organisations to become part of the MFA team, and assist the development of Australian-based and sovereign capabilities in one (or more) of the following ways:
Establishment of new industrial capabilities relevant to MFA,
Leveraging existing in-house industry capabilities, or,
Focused research in collaboration with industry partners.
This second phase of the program intends to extend the research effort underpinned by and re-focused towards industrial research capabilities and development. This will require significant industry engagement and close collaboration with university partners to transform concepts from the first phase into technologies that can be readily scaled and integrated. This outcome will set up the third phase to develop a fully capable multi-function aperture evaluation-demonstrator to assess how the new technology can be exploited in future force in-being.
What are the research areas?
S&T proposals in the MFA developed during Phase 1 and which are expected to be taken forward in Phase 2 are:
Antenna array elements and surface: Two array designs operating over a decade of bandwidth, providing wide scan angle range, and dual polarisation have been developed.
Impedance matching: Novel impedance matching techniques are being designed to meet the multi-function wideband requirements of the antenna surfaces.
Beam forming and excitation: The MFA antenna surface designs are accompanied by novel forms of array excitation for beam forming, steering and control.
RF amplifier design: GaN power amplifier and low noise amplifier designs for the MFA front-end RF transceiver to support multi-carrier functionality across a decadal bandwidth.
Circulator and switch design: Development of switch and circulator designs capable of operating with high isolation across the MFA bandwidth.
Self-Interference Cancellation: Wideband interference cancellation, based on novel Simultaneous Transmit and Receive (STaR) techniques suited to the antenna surface designs.
Digital Pre-Distortion: Digital predistortion of RF amplifiers under load to enable wideband multi-carrier operation with minimal impact from in-band distortion.
System simulator: A high fidelity electro-magnetic simulation environment has been established and is being used to assist with validation and future proofing of the array designs.
Thermal Management: Novel semiconductor design combined with electronic fabrication techniques to improve thermal management.
Industry Briefing Day
DSTG will provide a research program brief to all interested parties via Microsoft Teams on 07 October 2021 at 10.30am (Adelaide Time). This will provide an opportunity for clarifications and questions to be raised. Any further questions after this brief will need to be provide in writing with DSTG providing a written response that will be provided to all parties. Nominations to attend the briefing are to be forwarded in writing to the MFA mailbox: ZSN-ATGS@qfg.qrsrapr.tbi.nh to be provided with a Microsoft Teams invite.
For security purposes: Full Name, Organisation, Position, Mobile Telephone No. and email address of all nominated personnel are to be included at the time of nomination.
Contact Officer and RFP Inquiries
Proposers are to direct any questions or concerns regarding this RFP in writing to the Contact Officer.
Email: ZSN-ATGS@qfg.qrsrapr.tbi.nh
Proposers may submit questions or concerns to the Contact Officer up until five Working Days prior to the Closing Time specified in the Tender Details Schedule.
The call for proposals is now closed.