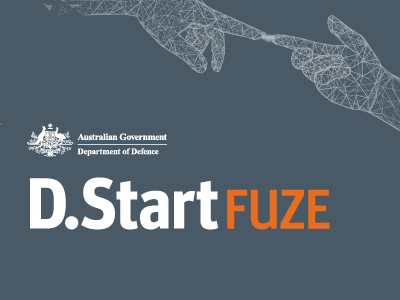 D.Start Fuze is a two-day, in-person networking event open to selected current participants and graduates of D.Start Ignite.
D.Start Fuze activities will coincide with a high-profile defence conference or exposition, for example:
INDO PACIFIC International Maritime Exposition, Sydney
LAND FORCES International Land Defence Exposition, Brisbane
AVALON Australian International Aerospace and Defence Exposition, Avalon.
Supported by an experienced team of facilitators and coaches on the ground, D.Start Fuze will provide participants with an opportunity to meet key players in the defence ecosystem, and connect with exhibitors that may inspire you on how to best apply your idea in the defence space.
D.Start Fuze is delivered in partnership with CSIRO and is supported by the Next Generation Technologies Fund.
What teams will get out of D.Start Fuze
Participating in D.Start Fuze will help you stay connected in the D.Start program pipeline, by offering you exclusive access to events that can strengthen your engagement with the defence sector.
How D.Start Fuze is delivered
The next round of D.Start Fuze will be delivered at INDO PACIFIC 2022 in Sydney.
About INDO PACIFIC 2022
INDO PACIFIC 2022 is an opportunity for commercial maritime and naval defence suppliers to promote their capabilities to decision-makers from around the world.
As the signature maritime event for the region, INDO PACIFIC 2022 offers an unparalleled concentration of Defence and civilian decision-makers, suppliers, SME's, prime contractors, universities, and research organisations. INDO PACIFIC 2022 will be the 12th iteration of this internationally renowned event, which in 2019 attracted:
657 participating exhibitor companies from 22 nations
182 industry, government, defence and scientific delegations from 48 nations, including 45 international naval delegations and 21 Chief of Navy counterparts from across the region
48 major conferences, symposia and forums
21,241 attendances across three days.
Example program
Day One
Participant arrival
Networking Event (evening)
Day Two
07:00-09:00 Breakfast Guest Speaker Panel 1 (Understanding Defence Opportunities)*
09:00-17:30: Attend exposition*
Day Three
07:00-09:00 Breakfast Guest Speaker Panel 2 (Learnings from Successful Defence Collaborations)*
09:00-17:30 Attend exposition*
15:00-16:00 D.Start Fuze Insights and Debrief*
*Mandatory attendance requirement.
Who can participate in D.Start Fuze
To be considered for the D.Start Fuze, you must be:
a past or current participant in D.Start Ignite
able to travel to the location of the relevant defence exposition and participate in the full program of activities
willing to register and attend the relevant defence exposition (general registration is free)
willing to arrange own travel and accommodation. In some cases, travel will be supported through a D.Start Fuze Travel Grant which will be payable after the event. Relevant teams will be notified upon receiving an offer to participate.
How to apply
Applications for D.Start Ignite are open periodically. However, applications for D.Start Fuze are by invitation only. If you meet the eligibility requirements, the D.Start team will email you directly. Successful applicants will be notified by email.
Contact
Contact the D.Start team or our delivery partner CSIRO if you have any questions about the program.